I'm a licensed Landscape Architect in Newport Beach, CA, and have been in business for over 35 years. My education includes an AA in horticulture, a Bachelor of Sciences in Landscape Architecture from Cal Poly, and a Landscape Architecture license in the state of California. I also have an extensive CAD background and have been told by many architects, contractors, and interior decorators that my plans are the most professional they have seen.
My clients include the City of Newport Beach and commercial property owners, but my specialty lies in custom residential projects. I have designed many landscape projects for new construction homes as well as remodels and vacation homes. My experience includes working with many different associations in gated communities, City planning departments and the Coastal Commission. I work closely with homeowners as well as with architects and interior decorators to ensure that the landscape meets the needs of the homeowner as well as compliments the homes interior and exterior aesthetics. My horticulture background gives me the knowledge to know how your plants will look years from now, not just immediately after installation. I am familiar with various styles of landscapes including tropical, traditional, contemporary and modern using all different types of plant palettes including those best for sustainable landscapes. Because I am a licensed Landscape Architect, I do most everything in house including hardscape design, plant design, lighting design, irrigation and drainage design, construction drawings and detailed specifications.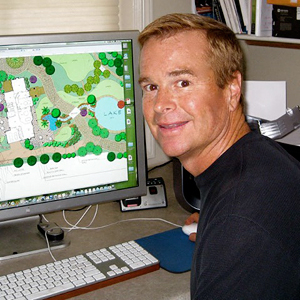 Although I have extensive knowledge and experience in my field, I have been told that what sets me apart from others is the fact that I listen and learn about each homeowner's lifestyle. I design my landscapes to cater to the individuality of the client, thus resulting in personal retreats created just for them

.